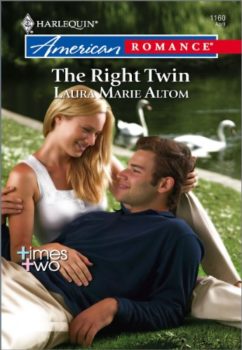 Times Two May 15, 2014
Harlequin American Romance #1160 e-Book

The Right Twin
It's a beautiful Texas summer, and Shelby Bell's idyllic lakeside resort is tailor-made for romance. So when Shelby suggests that Aaron Walker be her pretend boyfriend to help her catch a resort thief, she is sure it's the perfect plan. Aaron is handsome, smart and understanding—everything a woman could want in a beau. So what if her perfect boyfriend is a fake?
Having grown up in the shadow of his twin brother, Aaron is enjoying being the hero for a change. Shelby looks at him as if he is number one. But the more time Aaron spends with his quirky "sweetheart," the more their charade becomes all too real. Can Aaron convince Shelby that when it comes to romance, he is exactly the right man for the job?
Originally published April 2007 in mass market paperback.