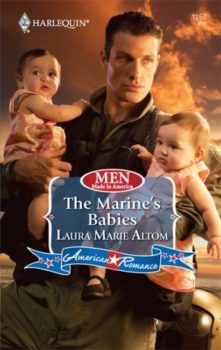 Men Made in America May 1, 2009
Harlequin American Romance #1257 e-Book

The Marine's Babies
Captain Jace Monroe goes from combat duty to daddy detail when twin babies in identical pink blankets are left on his doorstep. Suddenly the overwhelmed new father has a mission: rounding up a nanny for the daughters he hadn't known he had!
Enter Emma Stewart. She's smart, beautiful…and a natural mother. What is Jace's new nanny not telling him?
It takes no time for the infant girls to melt Emma's heart. But helping their sexy father make the transition from fun-loving bachelor to full-time dad requires some on-the-job training. To complicate things even more, Emma is falling for the marine.
When Jace discovers her secret, he's surprised. And he wonders if Emma's growing feelings are about him—or just his babies?