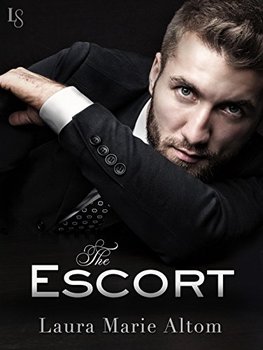 A Shamed Novel Book # 3
August 11, 2015
e-Book

The Escort
In Laura Marie Altom's scorching new Shamed novel, perfect for fans of Kendall Ryan and Claire Kent, two broken hearts push one another to the breaking point—until love changes everything.
Having lost the woman he loves to his best friend, Nathan Black swears off dating and playing by the rules. He's also tired of being broke. His new gig as a male escort isn't exactly legal, but the cash will help him build a solid future. Then there's the sweet, innocent woman he meets at the wedding. It's not the last night that ends with the two of them in bed together, and Nathan sure could use a little stability. But how could a good girl like her settle down with a screw-up like him?
Feeling sorry for herself at her boss's wedding, Carol Moore finds herself hooking up with a close friend of both the bride and groom. Nathan is hot, adventurous, and just a little bit dangerous. But when one of their sexy games goes too far, Carol discovers how out of control Nathan's life really is. And before long Carol is forced to choose between her safe old life and the bad boy who makes her feel like the woman she's meant to be.
Includes a special message from the editor, as well as an excerpt from another Loveswept title.