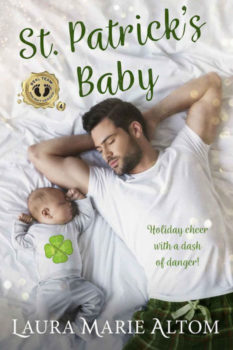 SEAL Team: Holiday Heroes Book # 4
March 19, 2019

St. Patrick's Baby
A brush with death has Patrick O'Leary's girlfriend, Stephie, talking love and marriage, but the explosive secret he's been hiding forces them apart. An orphan, she's excited to start their own family. But how can he in good conscience marry her knowing his genetic defect could mean a death sentence for their child?
What Patrick doesn't know is that Stephie also has a secret—she's already carrying his baby.
Now the only question is the most tragic any parent should ever face. Will their love be enough to see them through the heartbreak of whether their baby lives or dies?