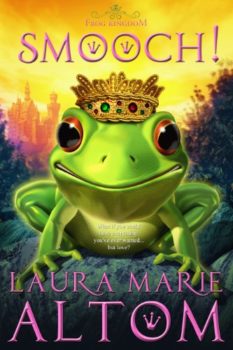 Frog Kingdom December 26, 2013
e-Book

Smooch!
Once upon a time in the not so distant future . . .
Lucy Gordon has one chance in a million to capture her every dream. Money. Fame. And most importantly—finally earning her father's respect. All she must do is discover a new species of frog. Then one day, by miraculous twist of fate, that frog finds her. Consumed with joy, she places a single, sweet kiss on the little guy's lips.
Poof!
By magic, her frog is gone—replaced by well over two hundred pounds of wholly naked, wholly medieval, bad-boy prince who claims she's saved him from an amphibian eternity. But Lucy doesn't want a prince. She wants her frog—her dreams. At least until the prince returns her kiss with spellbinding intensity.
Caught up in her own fairy tale romance, Lucy's choices become less clear. If she fails to declare her love for the prince by the next full moon, he'll be forever trapped in frog form. But isn't that what she wants?
Holding the power to transform Wolfe back into a wart-covered creature, Lucy must choose her own happily ever after. Fame, money, and respect? Or love?
Originally published January 2004 as Kissing Frogs in mass market paperback by Love Spell.