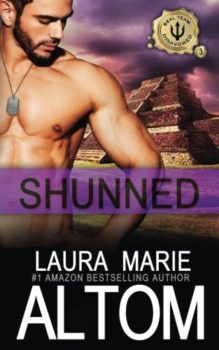 SEAL Team: Disavowed Book # 3
March 26, 2017
e-Book, Trade Size

Shunned
THE BABY WAS A FAKE . . .
Disavowed Navy SEAL Everett Black is on the most important mission of his life—to take back his best friends' kidnapped baby. Only when he arrives at the Colombian estate where intel assured him the infant would be, all he finds is a decoy doll.
With his friend constantly by his comatose wife's side, it's up to Everett to rescue Baby Joe during a perilous Colombian quest. What he never expects is to also find a forbidden attraction to Mary Margaret—the novice nun charged with the infant's care.
Will Everett save his friends' baby? Most importantly, will this disavowed Navy SEAL be able to fight his twisted longing for a nun's heart?
Originally published December 2016 by Fulton Court Press in eBook format.