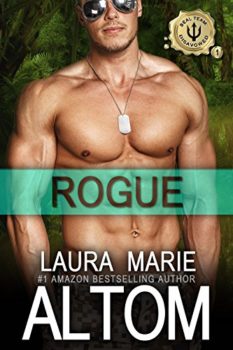 SEAL Team: Disavowed Book # 1
March 14, 2017
e-Book, Trade Size

Rogue
ONE WRONG MOVE.
Disavowed Navy SEAL, Nash Adamson, knows that's all it will take for his high school sweetheart, Maisey, and her unborn child to die at the hands of her psychopath ex.
Vicente Rodriquez is the untouchable drug king of south Florida. He wooed Maisey into believing their whirlwind romance was the fairy tale she'd searched her whole life to find. Pregnant, she couldn't wait to marry him. Life was idyllic until she witnessed her beloved murder in cold blood, then discovered he's already married to a woman who's unable to conceive. Maisey tried running to police, but found herself locked in a gilded cage. Vicente plans on keeping her alive long enough for her to give birth to his son, then he wants her permanently out of his family picture.
When Nash attempts a middle-of-the-night solo rescue at Vicente's remote compound, the mission goes horribly wrong. Suddenly, Nash is left with no choice but to hide deep in the Everglades, running from Vicente's trigger-happy hired guns with the eight-month pregnant woman he's fought years to forget.
When the exertion and stress send Maisey into early labor, the clock is ticking for Nash to save her and her child from not just lethal swamp creatures, but the man who wants her dead.
Originally published January 2016 by Fulton Court Press in eBook format.