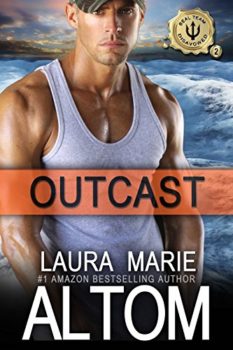 SEAL Team: Disavowed Book # 2
March 14, 2017
e-Book, Trade Size

Outcast
THEY'RE ALL DEAD.
When disavowed Navy SEAL, Jasper King, receives this cryptic message from Eden Marabella, an English lit professor he's fallen hard for, he's out of his mind with worry. Her behavior was already odd when she dumped him right before heading for Antarctica, but his every protective instinct kicks in when he takes her words as a cry for help.
Eden harbors a heartbreaking secret she never wants Jasper to know, which is why she followed her biologist father to his Antarctic research station. Upon her arrival, she expects to reflect on the cruel hand she's been dealt, only to discover dozens of dead Orcas washed along a lonely
stretch of shore.
Jasper is also hiding secrets he'd rather not face, which is why he doesn't think twice about calling in a favor from his boss at Trident, Inc. Protective Services to arrange transport for him to the South Pole. Upon his arrival at the station, Jasper finds Eden's actions stranger than ever until realizing he's stumbled upon a nightmare far bigger than he'd ever imagined.
Eden's father has been taken hostage. The demand for his safe return is that Eden must reveal the location to a vast Nazi treasure vault. But how can she do that when not only has she never heard of it, but she has no idea where it could be?
Will Jasper and Eden put aside their differences long enough to find the treasure and save her father? Or will they both be killed by maniacal fortune hunters or worse yet, the brutally cold and treacherous environment?
Originally published March 2016 by Fulton Court Press in eBook format.