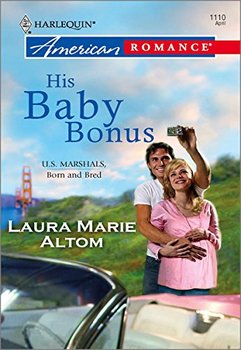 U.S. Marshals, Born and Bred Book # 3
April 11, 2006
Harlequin American Romance #1110 e-Book

His Baby Bonus
The Way To A Man's Heart?
Ms. Grade Sherwood—eight months pregnant and counting!—is on the run from her mobster ex-husband and the U.S. Marshals who are supposed to be protecting her. No one is going to keep Gracie from winning the Culinary Art Invitational cooking competition—her one chance at making a fresh start for her and the baby.
After a close call, U.S. Marshal Beauregard Logue finally convinces Gracie to stay close to him—which basically means he's become her personal taster! Gracie has to stay focused on the contest, and on her pregnancy, but it's hard to concentrate with a big handsome marshal asking her for seconds.
Gracie's falling for Beau, but have those feelings grown out of love or out of fear? And is this marshal
willing to take on a baby, too?