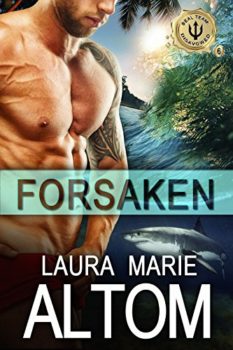 SEAL Team: Disavowed Book # 6
August 18, 2017
e-Book

Forsaken
SHARKS. EVERYWHERE. SO MUCH BLOOD . . .
Three years earlier when former Navy SEAL Briggs Denton had a vacation fling with a hottie Turks and Caicos shop owner, he never dreamed they'd meet again—only not as a couple, but targets.
Her desperate call for help leads him into troubled tropical waters swarming with man-eating beasts and gun-toting modern-day pirates. A dark family secret could lead to untold riches or their watery graves. Will Briggs keep them alive long enough to discover who wants them dead?