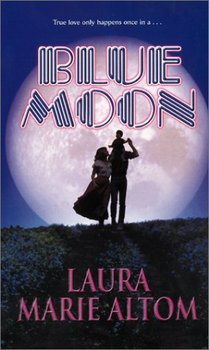 May 1, 2003
Paperback

Blue Moon
When bad girl Geneva McBride died, she assumed she'd go straight to hell, but it turned out the Big Guy had a sense of humor. To earn her angel's wings she had to match her former husband with his ideal mate. Luckily, she had a foolproof plan–well, almost foolproof.
Heaven Sent . . .
Ever since Jonah McBride's wife had left him and then passed away unexpectedly, his daughter had been sick. Plus, his restaurant, the Blue Moon Diner, was failing. His life didn't truly spiral out of control, however, until he discovered a woman sleeping in the ladies' room–a woman who awoke believing they were married.
Clearly the beautiful blonde suffered from amnesia. But when she nursed his child with practiced ease, Jonah figured the truth could wait a few days–just until his baby's health improved. As the white lies added up, though, his house suddenly felt like a true home, his business took off, and the lady  responsible made him weak with desire. Now, Jonah planned to prove their love was the real deal.
Republished July 2014 as Angel Baby.