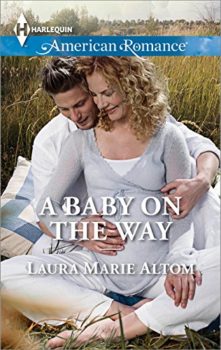 April 5, 2015
Harlequin American Romance #1165 e-Book

A Baby on the Way
One of Laura Marie Altom's Best-Loved Stories
Single-mom-to-be India Foster has never fit in. So when she's temporarily mistaken for a guest at the high school reunion she's coordinating, she gets a taste of the life she's only ever dreamed of. A life filled with friends, fun—and fireworks with a handsome hometown boy, Graydon Johnson! Too bad the snowboarder is leaving Silver Cliff just as soon as the reunion's over, because India's determined to put down roots in the remote Colorado town.
Party-boy ways and a bad marriage behind him, Graydon's got a second chance to be the father his own son deserves. He's not looking for love—until he falls hard and fast. Even though he's transitioned from competitor to coach, Graydon's career still involves plenty of travel, and India's made it clear she needs a solid foundation to raise her baby. So Graydon will have to prove he's the man to help her build it.
Originally published June 2007 in Harlequin American Romance #1165 within the Summer Lovin' anthology.